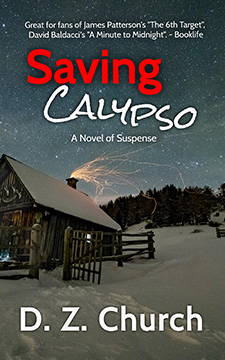 Teen heiress Calypso Swale was about to join the U.S. equestrian team in the Olympics when a car crash involving drunken Grieg Washburn, heir to the Washburn Exploration (WashEx) empire, killed her parents. At the time, Larch Swale, Calypso's father, was COO of WashEx. Her father's last word to her was "Run," and Calypso obligingly disappeared with a chunk of his money and a precious patent for a new kind of engine. Five years later, Grieg's father is dead and it looks like someone's trying to kill Grieg too. WashEx's board is offering a reward for Calypso's return, and no one wants her found more than Grieg.
"In the tantalizing prologue of this twisty thriller from Church (Head First), the enigmatic Calypso Swale decides to leave her home for the second time in six months… Flash forward four years. In Kenya, Grieg Washburn learns that his father, Ray, has been blown up by a bomb in Syria… Readers will keep turning the pages to see what brings Calypso and Grieg together in the present day."
—Publishers Weekly
"This well-constructed thriller provides plenty of action… The protagonists are unusual and compelling. Their mutual need to reinvent themselves in order to survive will resonate with readers as the double-crosses and questions pile up. This is a satisfying look at the devastation wrought by selfishness… Great for fans of James Patterson's The 6th Target, David Baldacci's A Minute to Midnight."
—Booklife Reviews
An excerpt from Saving Calypso:
They were back.
Display advertisements in the San Francisco papers seeking Calypso Swale, a missing heiress, preceded the watchers by two weeks. Only six months before, Calypso was sunning herself on the deck of a borrowed villa in Mustique when she noticed binoculars trained on her. She disappeared with the help of friends, landing in San Francisco clutching a passport bearing a new name and the take from her father's safe. She rented a house and found a job at the Dolce and Gabbana store on Grant Street. She loved working, she hadn't thought she would, but she did. She met the right people, many on the Social Register, wormed her way into their graces, and got paid for doing so.
Now, the watchers were back.
She spotted the first one gaping at her via her reflection in a store window as she passed. Every day since, she had been surveilled as she arrived for work and at the end of her shift as she trotted to catch the bus at the corner of Geary and Kearny. No matter which watcher it was, he wore casual dress clothes with sneakers. Who does that? Someone sent to return her to the East Coast to take her lumps, that's who.
She was prepared to run if need be, her camping gear, hatchet, just-in-case knapsack, and parka, all from REI, were in the trunk of her silver Lexus sedan. What remained of her father's cash and the envelope he handed her fourteen months ago were sewn in the lining of her purse. Not much of the money remained, she had wasted it on the feel of silk against her skin, cashmere over her shoulders, and chemicals which she kept dry in a tin lunchbox bearing a portrait of the young Captain James T. Kirk. The colorful box with the plastic handle was wrapped in lingerie from Victoria's Secret, stuffed in a tote, and tucked behind the front seat of her car.
She scurried through her workdays. At night, she prepared to be a bridesmaid for a co-workers wedding at the Bellagio Casino in Las Vegas. She had her favorite Gucci dress cleaned at a laundry specializing in haute couture. The dress and the matching slingback Jimmy Choo shoes were boxed and on the backseat of her sedan. She dreamed of watching the Bellagio water jets at the front of the casino dance to soaring music while holding her dream man's hand, knowing it was a chimera. She would never make her friend's wedding. The tall, dark, and handsome dream man with his well-cut jaw and broad shoulders might never be. Still, she kept up pretenses, meeting with friends, speed dating guys, planning for the wedding, and checking items off her get-out-of-town list.
The Thursday before the wedding, she hustled to her Muni stop, had her pass ready, then jammed herself up and into the bus before her watcher crossed Grant Street. She trotted from the bus stop to her rented home on Noe Street, changed into jeans, a heavy sweater, and hiking boots, grabbed her luggage, and rushed down the interior stairs to the street level garage.
A footstep, her name, her real name, a hand over her mouth. She spun kicking. The man stepped back. Her knee rammed home. The minute his hands lowered to his crotch; she slammed her elbow into the bridge of his nose. When his back met the garage wall, she climbed into her car and tore into the San Francisco night.
Resources:
Curly horses: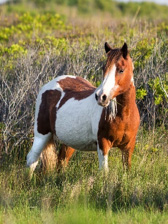 The Curlies are known for their calm, intelligent and friendly personality. They show an easily trainable temperament. They are also known for having a tough constitution and great stamina. Most people have found that the curlies enjoy being around people. The curlies are typically not flighty. They tend to do more reasoning than most breeds. They are very reliable and have a great work ethic.
Coat, mane and tail
The unique gene that gives Curlies their curly hair (which is most obvious with their winter coat) can be expressed minimally (horse exhibits curly hair inside ears, at fetlocks, and a kinky mane and tail), maximally (horse exhibits curl all over body, has dreadlocked mane, and has curly eyelashes and guard hairs), and "Extreme" (very tight, extreme curls, but when they shed out for summer can shed entirely bald) or any variation in between. The coat in the summer shows a slight wave in it, but not as extreme as the winter curls.
Because the trait can be carried heterozygously, some purebred Curlies exhibit no curl at all. (Called "smooth coat" curlies.)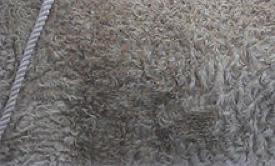 Curlies have split manes and are not braided or clipped when shown. Curlies are most commonly chestnut colored, but can be found in every color from standard bays, blacks, and greys, to appaloosa markings; from pinto patterns to dilute colors such as buckskin, roan, grulla, and cremello.
The care for the curly hair is simple with most people choosing to not comb the mane because the hair will lose its curliness. The manes are often trimmed to keep them from matting. The tails can be combed. Some people choose to collect the hair that is shed from the mane and tails in the spring. The hair is then donated to the ICHO Fiber Guild. They use the hair for spinning. All of the proceeds go to ICHO Curly Research Efforts.
For more information, read the full article at Wikipedia.
California State Mining and Mineral Museum:
Get a fascinating glimpse of California's mineral wealth, colorful mining history and geologic diversity, at the California State Mining & Mineral Museum. This museum represents California's official collection, containing over 13,000 gems, mineral crystals and mining artifacts, including the "Fricot Nugget," a rare and beautiful 13.8-pound piece of crystalline gold found in the American River in 1864.
For more information, visit this site.
Nelder Grove of Giant Sequoias:
Why visit Nelder Grove? The Nelder Grove's five trails feature many highlights similar to those found in Yosemite's much more heavily visited Mariposa Grove, including a whanging great tree (the Bull Buck Sequoia) that rivals the Grizzly Giant in size; a tree you can walk through (the Chimney Tree); and a variety of second-billing mature sequoias that are not remarkable in any way other than being bigger than 99% of the trees in our solar system and older than the Magna Carta. Hiking the Shadow of the Giants trail is a singularly peaceful experience that doesn't have an equivalent in the Mariposa Grove.
For more information, visit this site.