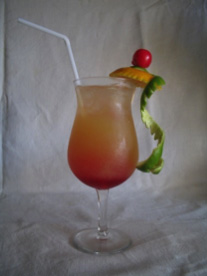 There is a tale in the making…
1 part light Mt. Gay rum
1.5 parts dark Mt. Gay rum
1 part fresh squeezed orange juice
1 part fresh squeezed lime juice
1 part fresh pineapple juice
4 parts club soda
Combine everything but the club soda in a shaker and shake over ice. Strain into a glass over ice. And add an equal volume of club soda. Garnish with a teaspoon of grenadine and a couple dashes of Angostura Bitters. Stir with a spoon.
One should always use Mt. Gay Rum; here's why:
The case can be made that the first rum distilled for commercial export was most probably distilled upon the Island of Barbados. In fact, the tradition of producing rum on Barbados has been dated to the early seventeenth century as there is evidence of small-scale distillation as early as 1637. (The first recorded written usage of the word Rum as it relates to distilled spirit anywhere in the world.) Evidence dates to 1167 indicates that there were stills in use at the location which would later become The Mount Gay Plantation, and written evidence that a spirit called rum was produced at this site comes from the year 1703. This makes Mount Gay the earliest recorded commercial producer of rum in the world, and this also makes Mount Gay the oldest Rum Brand in the world. To highlight their unique place in history Mount Gay includes the year 1703 on every bottle of rum which they currently produce.
Chip Dykstra, www.therumhowlerblog.com
So, "From probably the oldest rum distillery in the world (dating from 1703), comes this legendary Barbados golden rum. Mount Gay Eclipse is absolutely superb value for money." This according to www.thewhiskyexchange.com and everyone who has every succumbed to a true Planter's Punch, as Olivia does in Perfidia:
Olivia Lassiter is ensconced at the beach bar located at Sam Lord's Castle resort. The bartender dances attendance on her, telling her stories about Perfidia as she drinks Planter's Punches.
"Careful, ma'am," the bartender said, "Deez are lustful drinks."
"And, if you have no one to lust with?" I quipped, blazing him with all of the pizzazz I saved for my third-grade students.
"I can't recommend more than one."
(Later)
He (the bartender) took my empty punch glass, smiled one of those smiles then went down the bar. First, the dark rum went in then the light then the lime juice then who knows what. Back, he set the drink in front of me where he dropped in two bright swizzle sticks each topped by a multi-colored macaw and squeezed a dash of lime over the top. With the middle finger of his right hand, he scooted the drink across the shiny mahogany bar. I sipped. My eyes rattled.
"For you, ma'am, a true rum punch."
"Waz the difference?" I slurred through what I hoped was an impish smile.
"Bajan White Dark Rum then Bajan White Light. Lots of rum."
"Indeed." I sipped the drink again. "Tell me more."
(Still later)
I paid my bar tab, grabbed my napkin map, and waved the map at Dave (the bartender), who was still performing (for the other tourists). Dave was right. A good rum punch is indeed a lustful drink. A quick check of the tourists assured me that no one noticed my small trip over a flat stone. From now on, only one rum punch for de lady.
I drove out of Sam Lord's, my stomach doing rum dances. My head started with that tight piercing rum thing. Flying insects dominated the far reaches of my peripheral vision. I was flat out drunk. Del would have been proud.