"Forty feet downriver, a small blue boat, pointed bow and stern, bumped against a section of a wooden jetty. . . The moment the stern rope popped loose, the boat bobbed, then righted, drifting into the current. Soon enough, they had joined the other junks heading downriver for Vung Tau."
—Pay Back
As Saigon fell, whole families headed down the Sông Sai Gon, weaving their way through the delta, to Vung Tau in wooden fishing boats. The families hoped to reach Vung Tau in time to meet up with merchant ships reportedly in port to help with the evacuation. Others headed out to sea toward the U.S. Seventh Fleet in the South China Sea.
The traditional Vung Tau fishing boat comes in many sizes, but is described as being pointed at both ends, and painted either red or blue. The boats featured in Pay Back are most similar to the one shown below.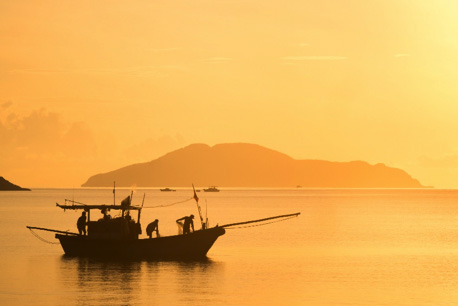 Boats come in a wide variety of sizes. This photo shows the various boats used by the fisherman of Vung Tau.
Find out more about these boats essential to the Vietnamese fishermen by visiting Wooden Boats of the South Vietnamese Coast.