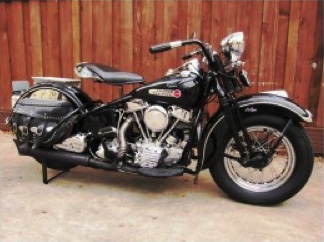 In 1936, Harley-Davidson got a leg up on its closest competitor, Indian, by offering the public and overhead-valve engine. These engines were known as "Knuckleheads" because of the shape of their heads. This engine was kept in the Harley-Davidson line until 1948 when it released its new OHV engine, nicknamed the "Panhead" because its valve cover looked like a sauce pan. It was available as both a 61 CI engine and a 74 CI engine. The 61 was known as the EL; the 74 as the FL. If the engine had higher compression, it was known as a FLH, which featured a distinctive emblem n the side. The last year for the springer front end was 1948, as the telescopic fork would be introduced in 1949. The telescopic fork was becoming the industry standard at this time.
With hydraulic lifters—the FL Panhead is the bike that launched Harley-Davidson as a leader in post-war America. Their first post-World War II bike got the nickname Panhead from its two, roasting pan shaped rocker covers. Aluminum cylinder heads were yet one more innovative design improvement made on the Panhead. In addition to being less expensive than iron, aluminum also retains less heat and reduces the overall weight of the bike. Engine life was extended with improvements to the oil circulation system. A record 31,163 Panheads were sold in 1948—a testament to Harley-Davidson's foresight, innovative design and superior manufacturing.
Long considered one of the more esoteric collector pieces is the 1948 Harley Davidson Panhead. This is the connecting link between the older and new Panhead engine designs. The Knucklehead had a run of 12 years and had served its purpose. The Panhead shared the same dimensions and nomenclature. They featured hydraulic lifters and aluminum head. With their big valve setup, they became popular with drag racers, and chopper builders also liked the look of the engine. Probably one of the most famous Panheads was the "Captain America" bike ridden by Peter Fonda in the 1969 movie "Easy Rder." Harley-Davidson kept the Panhead until 1965. That year, Harley-Davidson installed an electric starter, and the Panhead became known at the Electra-Glide.
Photo and text from Just Panhead; for more information, click here
The Panhead (excerpt from Dead Legend):
Byron's younger brother, Laury, a Marine injured in Vietnam, is readying to go back stateside. Drinking at the Banyan Bar at the Moana Surfrider, he reminisces about his father and his beloved 1948 Panhead Harley-Davidson.
The bottle of Jack Daniel's on the table under the massive banyan tree was still half-full. The waves of Waikiki sloshed the beach. Beautiful girls with lush brown hair in Hawaiian print dresses swayed by occasionally to empty Laury's ashtray and ask if he needed anything. Laury lit a cigarette and just kept drinking. He reached for the bottle with his left hand. The old scar from his boyhood bicycle accident caught his eye. He ran a finger down the thinning ridge of the scar back through time.
He had worked late at the Base gas station, forgetting the invading dark, ignoring the vague, anonymous threats to his and Byron's safety delivered over the telephone by an interchangeable gravelly voice. Laury peddled his bicycle through Base housing. The tiny light between the bike's handlebars lit a shaky path in front of him, letting the dark close in on his flanks.
In response to a vague sense of nervousness, Laury stood on his pedals to pump harder. He checked under his arm when he heard an engine hum. He was sure it was DiGeorgio's new Nash with Mrs. DiGeorgio driving. He sat back in the seat, peddling steadily, staying as close to the shoulder of the road as he dared so she could pass.
She didn't. She kept the car just off his left. He waved her by. She waved happily back, followed by squealing breaks, metal ripping, sparks and grinding bone.
All the noise stopped with one last screech. The ensuing silence was broken by the sounds of a door slamming, raised voices, and running feet. When Laury tried to move, a flash of white light nauseated him. Someone touched him on the leg. He meant to say Mac but moaned instead.
"You go get his father. You go call an ambulance. Now!" Commander Clusen ran a comforting hand down Laury's cheek. It was Clusen's voice, wasn't it?
Jack Clusen was dead—three weeks later—followed by Mac then Kapsalis. Accident, suicide, drowning was that the order? The sweet flutter of notes produced by a woman singing an old paniolo song reminded Laury to pour another drink.
That night, Clusen had covered Laury's twisted body with a blanket then stood guard over him until Mac arrived.
As Mac knelt to Laury, he hissed at Clusen, "Do you believe me now, Jack? Do you?" Then Mac's fingers like feathers brushed the hair from Laury's eyes. "Who did this?"
There was no answer. With Mac at his side, Laury finally felt brave enough to open his eyes. Mac's eyes ate holes into Jeff DiGeorgio, who leaned on his turquoise and white Nash, his wife tucked under his arm, her face streaked with tears.
Laury passed out to awaken sick to his stomach in a stark white room. Mac, his hands in the back pockets of a pair of plaid shorts, stared out a window beside the head of Laury's bed. Through the veil of his dark lashes, Laury appraised Mac's rumpled hair, unshaven face, and red-rimmed eyes. A white Adirondack chair was at the head of Laury's bed. A translation of Antoine de St. Exupery's Courier du Sud was spine-up on one wide arm, a thin hospital blanket in soft piles on the hard slats.
Feeling Laury's eyes on him, Mac turned and knelt at bed level, fingering hair from Laury's eyes. "You're going to be fine, Wingman. We're going to be fine."
For the first time ever, Laury glimpsed the tracings of fear in the netting of lines that edged Mac's golden-brown eyes. Instead of holding onto Mac for dear life, he said, "I'll never get enough money to buy Ver Hooven's Harley, now."
And, though he was big enough in general but not big enough for then, he started to cry. Mac sat on the edge of the bed. He didn't say don't cry, didn't say you're too big. He drew Laury's head to his shoulder and stroked Laury's temple with a hand strengthened on the sticks of fighters, cooing, "When I gave Ver Hooven the fifty you still owed him he said he'd drop the Harley by the house as soon as I got you home."
Had Laury known it would end so soon, he would have snuggled deeper into Mac's arms. Instead, he was stone drunk at a ritzy bar on Waikiki beach. His left arm, crooked on the table, cradled his head as though Mac still held him. His snubbed cigarette sent a drifting signal into the night. His other hand danced with a packet of morphine in his pocket. Pathetic didn't cover it.