Booth Island: Available Now
Boo Treader needs closure for her and for her dead brother. She's about to get more than she bargained for…
My clothed body bumps off granite rocks as it descends into the frigid depths of a Canadian lake. A swirl of red drifts on the bubbles escaping my lips. I watch each pocket of air grow smaller as it ascends toward the surface. A concussion rams my hip against a cement post. I glance to my left. Another body bobs next to mine. Recognizing it, I reach out…
I woke with a jolt knowing I was out of my depth again. I chose to believe that was the message of the dream. The nightmare, really, had haunted me at random intervals since my brother, Roy, drowned at the age of seventeen. I was fifteen at the time. We had been a team.
"A mystery rich with unease …"
—Booklife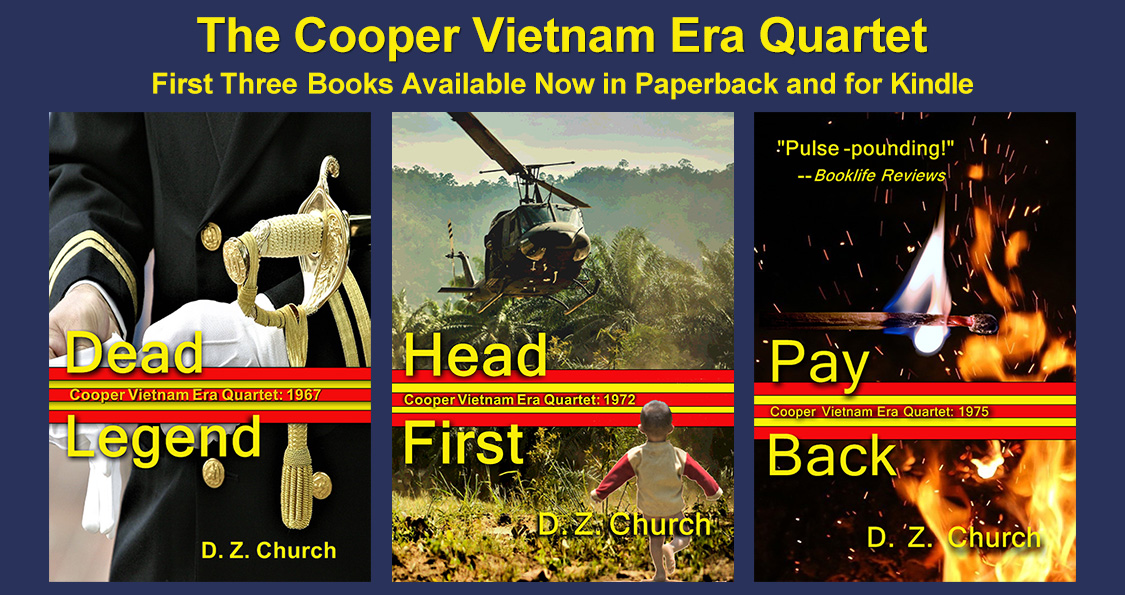 Pay Back: Available Now
Pay Back is the third novel in the Cooper Quartet, the story of a military family set against the tumult of the Vietnam Era.
It is April 1975. The U.S. has withdrawn leaving only a few Marines to protect the U.S. Embassy and Airbase HQ. As the North Vietnamese close in on Saigon, journalists stay on to report the advance, South Vietnamese beg to leave, and the U.S. is ready to forget—but not the Coopers.
Two acquaintances from opposite worlds call in their markers, sending Laury Cooper careening back to Saigon on a knight's errand. Disgraced, CDR Byron Cooper is given one last chance aboard an aircraft carrier in the South China Sea. As Saigon falls, both brothers face their future, a future endangered by greed, desire, treachery, and drugs.
One of them will risk everything, including his wife and children, to win.