Head First
Head First is the second novel in the Cooper Quartet, the story of a military family set against the tumult of the Vietnam Era. It is December 1972, President Nixon has ordered carpet bombing of Vietnam, and public opinion has turned sharply against the war.
For Jolie Minotier the stakes couldn't be higher, adrift in the town where her mother, terrorist Chloe Minotier, abandoned her, fearful her mother will resurface, rejected by her father, she does the one thing she can think to do—run. But she doesn't anticipate being kidnapped or that her father, now CDR Byron Cooper, her uncle, Laury Cooper, or her aunt, LT Robin Haas, will care. But they do. Sufficiently to endanger their lives and careers in the rush to find her.
Jolie's disappearance sets off a chain of events from kidnapping, to heroin smuggling, to unsanctioned insertion into Vietnam that will change the landscape of the Cooper family forever.

"As historical fiction, Head First is accurate; as a novel, it's moving, intriguing and a successful portrait of a family living, trying to survive, during extremely trying times, under extraordinary circumstances."
—Wanda Fischer, Reedsy Discovery
"This sequel continues the saga of the Coopers, a Navy family grappling with its past against the backdrop of the Vietnam War… Church's prose is precise an often subtly lyrical, asking readers to pause and sit with every scene… an intriguing family saga."
—Kirkus Reviews
Dead Legend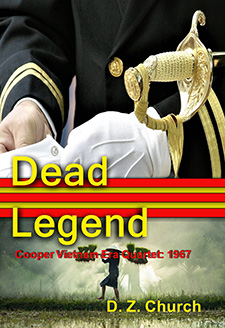 Dead Legend introduces Laury Cooper, a Marine, and his brother, Byron, a Navy pilot.
Their father, Mac Cooper, one of the Navy's top aces, was a legend, with medals stretching from WWII to Korea. In 1955, he asked one question that ended in scandal and suicide.
Now it is 1967, as pilots sortie, equipment problems escalate until flying an A-4E attack bomber is as touch-and-go as out-maneuvering enemy missiles. When Mac Cooper's question resurfaces, his sons, in opposition, set out to resolve the past even if uncovering the truth about Mac's death destroys them.
Dead Legend is the first book in the Cooper Vietnam Era Quartet.

"Church writes in a muscular prose that never loses its noirish register… there's something compelling about the milieu and the language that keeps the reader engaged, particularly as the mysteries of Mac Cooper begin to unravel."
—Kirkus Reviews

Before Dead Legend came Perfidia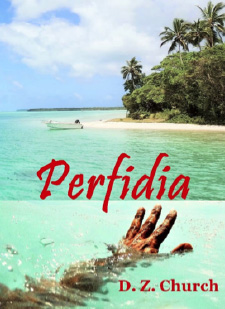 The DEA claims Olivia Lassiter's father, Del, was last seen retrieving the wave-battered body of his drug running partner from a rocky cove in Barbados. In disbelief, Olivia outruns the DEA to Del's safe deposit box only to uncover an emerald and ruby necklace, bearer bonds, and a rusty key.
When a couriered note from Del demands the key, and a glib Barbadian lawyer dangles intrigue, Olivia grabs the next flight to Barbados landing in the middle of a tug of war over a historic plantation, a hunt for rumored pirate booty, and a host of long kept secrets.
It will take all of Olivia's wiles to survive Perfidia.

 "In Church's debut thriller… Church manages, quite impressively, to maintain a sense of a hidden but perpetual threat… Overpowering dread and a leery protagonist make this a suspenseful read."
—Kirkus Reviews